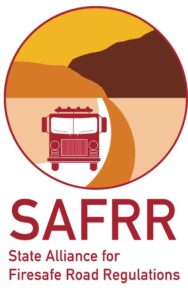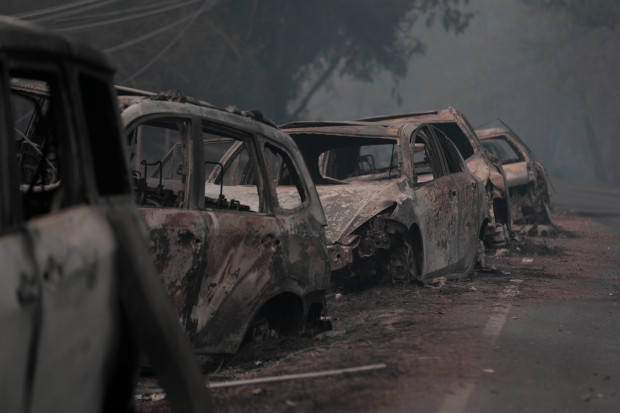 We continue to work at the State and local levels for safe evacuation
Please join us in holding our State and local officials accountable for the unnecessary risks and dire consequences you and your loved one's face when minimum fire safe regulations are not enforced and evacuations fail as a result.
Both existing communities and new developments often rely on sub-standard access roads and bridges for evacuation, leading to inevitable and dangerous bottlenecks.
Experts unequivocally assert that fire professionals require a minimum of 20 feet road width for concurrent evacuee egress and fire safety equipment ingress. And, that development should never occur on dead-end roads more than one mile long. Yet, local governments have proven unwilling to ensure that land-use developments meet the critical fire safe standards.
Political pressure exerted by a coalition of experts, fire professionals, non-profit environmental organizations, homeowner associations and grassroots activists paid off. As of December 2021, heavy lobbying by the Rural County Representatives of California (RCRC) and developers attempted to gut the fire safe regulations. However, SAFRR went into a full court press by leveraging its network of strong voices that ultimately turned the tide.
In early 2022, SAFRR, working with 21 high ranking fire professionals, wrote to the Board of Forestry urging it to preserve the current regulations that protect both residents and firefighters. These Wildfire Professionals stated that bottlenecks on existing sub-standard roads will inevitably lead to catastrophic injury and deaths for firefighters, citizens, pets and livestock. These concerns are clarified in their Press Release included below.
Key groups, such as the Center for Biological Diversity, the Sierra Club and Greenbelt Alliance wrote letters that helped identify technical experts required to conduct data-supported analyses of existing road capacities and impacts to evacuation response times during wildfire emergencies. And, grassroot efforts in both Sonoma and Napa counties led to generous donations to SAFRR's fiscal sponsor – Sonoma County Tomorrow – enabling the execution of SAFRR's legal strategy.

The Board of Forestry continued to delay its vote – ultimately bending to the political and legal pressure that turned the tide (See Letters below). In August, 2022, with an unanimous vote, the Board preserved the long-standing, public safety focused State Minimum Fire Safe Road standards.
Sonoma County Conservation Council (SCCC) presented SAFRR with its 2022 Environmentalists of the Year Award."
View a recent presentation here.
Check out our "Lessons Learned!"
The California State Insurance Commissioner was compelled to weigh in.
In a January 19, 2022 letter to the BOF, California Insurance Commissioner Ricardo Lara warned that exempting existing roads and enabling local government authority to gut fire safe
standards will, "…put people, including those in existing developments, in greater danger while simultaneously increasing their costs of home and business ownership by exacerbating insurance availability, especially in the WUI [Wildland Urban Interface]."
"Many of the existing communities in the highest fire severity zones were never designed to safely support their current housing, commercial, and industrial density, let alone additional development. Communities across the state need stronger regulations, not loopholes that would allow new development to be built on substandard unsafe roads,"said Doug Leisz, former Associate Chief of the U.S. Forest Service.
And, six southern California legislators questioned the adequacy of the proposed gutted regulations, in light of the substantive changes that weakened public safety standards.
Articles in the Press: January 26, 2022 New York Times article: In California, a New Fight to Stop Building in the Path of Fire, and Scott Shafer of NPR KQED: Fire Experts Warn of Dangers of Proposed Safety Regulations.
Then, in October 2022, Attorney General Rob Bonta issued guidelines with steps to limit how housing and other development can occur in areas that are at highest risk of wildfire. These guidelines are expected to reduce the risk of lawsuits and wildfire destruction.
2023: SAFRR prevailed in protecting long-standing fire safe road standards, and we continue to monitor legislation and rulemaking at the State level. The February 15, 2023 Washington Post opinion piece by Dr. Deborah Eppstein of SAFRR, "California's problems won't be solved by building in wild areas," led to a meeting among SAFRR, allied retired wildfire professionals, and senior CAL FIRE and Department of Natural Resource officials to discuss improved training, oversight and enforcement of local jurisdictions' implementation of fire safe road standards. 
PLEASE MAKE A DONATION TODAY:
To protect lives, we must ensure project approvals require adequate access roads that provide for safe concurrent ingress and egress.
DONATE TO SAFRR – NorCal
DONATE TO SAFRR – SoCal
Contributions to our 501(c)(3) fiscal partner, Sonoma County Tomorrow
Tax ID #: 94-3019165 are tax deductible to the extent allowed by law.