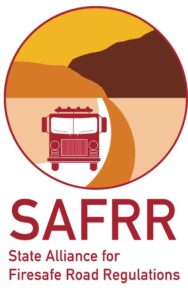 We all face the risk of wildfire – Please ACT as the State is planning to vote on fire safe road standards that no longer protect safe evacuation!
The intent of fire safe road standards is to provide for access by large firefighting equipment with concurrent evacuation of residents and workers.
The December 2021 draft, to be voted on in March, 2022, no longer provides for concurrent access/egress on existing rural, mountainous or one-lane roads.
Experts Issue Warnings: Professional firefighters warn that emergency evacuation situations are a time of chaos. If faced with a wildfire, can you make a rapid evacuation? Well, that depends on whether you, your family or friends live or work on a fire safe road.
At a time when climate change impacts are causing more intense and frequent wildfires with devastating losses to lives and property, the State Board of Forestry and Fire Protection (BOF) is proposing revisions to State minimum Fire Safe Road Regulations that substantially weaken long-standing safe road standards for existing roads.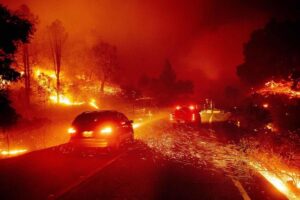 To learn more, go to SAFRRs ABOUT page, with links to letters of warnings from wildfire professionals, Southern California legislators, the California Insurance Commissioner, and additional resources. 
SAFRR is fighting for your family's safety – yet, we need your help!
A donation will help the State Alliance for Firesafe Road Regulations (SAFRR) provide evidence compelling the State to conduct data-supported analyses of existing road capacity, assessments of ignition sources created by commercial developments, and impacts to evacuation response times during wildfire emergencies.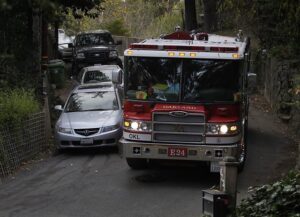 To protect lives and property, technical studies must identify alternatives that ensure safe concurrent ingress and egress.
Thank you for your support – Time is of the essence!!
Contributions to our 501(c)(3) fiscal partner, Sonoma County TomorrowTax ID #: 94-3019165 are tax deductible to the extent allowed by law.