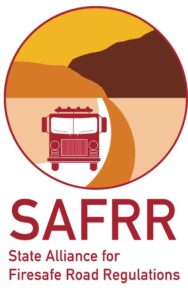 It is inevitable that the gutted State standards will result in the loss of life. Who will be held accountable for the unnecessary risks and consequences
to you and your loved ones from failed evacuations?
Climate-intensified wildfires are a fact of life in the drought stricken western states. And, horrific wind-driven fires have jumped freeways and burned subdivisions far from forests or the "Wildland Urban Interface."
Two years ago, a Fire Chiefs Working Group, did extensive research and made a recommendation to the State Board of Forestry and Fire Protection (BOF). Their recommendations were to retain the current 20-foot road width standard and reduce the maximum length of dead-end roads to ½ mile.
SAFRR was shocked by the most recent draft of the regulations as they ONLY uphold safety standards for new roads within new developments built in fire risk zones. And, remove standards for EXISTING roads, where most development occurs, remove existing bridge weight limit requirements, and restrictions on one-lane roads.
As both existing communities and new developments must rely on existing access roads to evacuate, bottlenecks are inevitable.
The State weakens the regulations further by giving local governments the unfettered ability to invoke exceptions on EXISTING roads. Yet, local governments have proven unable or unwilling to ensure development that meets fire safe standards.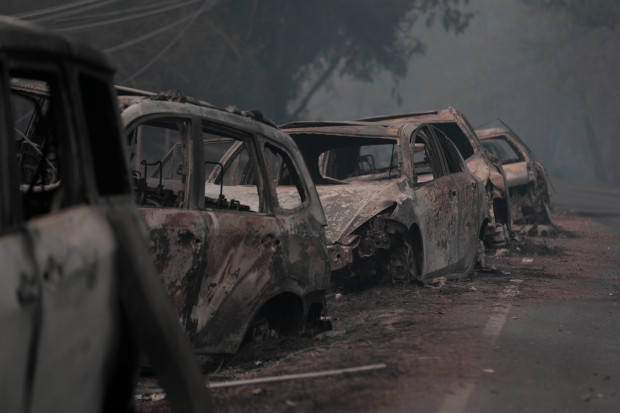 Additional Resources: SAFRR is not alone in its concerns about the adequacy of the Fire Safe Road Regulations. In January 2022, a letter from 21 senior fire professionals urged the BOF to preserve the current regulations to protect both residents and firefighters: Wildfire Professionals stated that bottlenecks on existing sub-standard roads will lead to catastrophic injury and deaths for firefighters, citizens, pets and livestock. Then, several fire professionals clarified these concerns – see quotes in the Press Release below.
Six southern California legislators wrote to question the adequacy of the regulations, given the substantive changes weakening public safety standards. And, the California State Insurance Commissioner was compelled to weigh in. Given existing roads provide access to roads serving new developments, Ricardo Lara warned that exempting existing roads and providing local government authority to reduce the standards will, "…put people in danger
while increasing their insurance rates and/or reducing the availability of options for property insurance."
Scott Shafer of NPR KQED: Fire Experts Warn of Dangers of Proposed Safety Regulations: https://www.kqed.org/news/11880400/new-regulations-would-increase-wildfire-risk-to-firefighters-and-civilians-fire-experts-warn
January 26, 2022 New York Times article: In California, a New Fight to Stop Building in the Path of Fire
To protect lives and property, technical studies must identify alternatives that ensure safe concurrent ingress and egress.
Thank you for your support – Please Donate Now. Time is of the essence!!
PRESS RELEASE February 2022
Fire Experts Warn Against State Board Changes to Fire Safe Regulations
Board of Forestry and Fire Protection Proposes Development on Unsafe Roads in Fire-Prone Areas
Contacts: Doug Leisz, Associate Chief of the US Forest Service, Retired 530-444-0001 [email protected]
David Hillman, Deputy Director Cal Fire, Fire Prevention & Law Enforcement, Retired [email protected]
Mike Rogers, Former Forest Supervisor National Forests, 858-248-3204 [email protected]
Fire experts are calling on the State Board of Forestry and Fire Protection to reconsider proposals that weaken long-standing regulations to keep communities safe. At a time when climate change impacts are causing more intense and frequent wildfires with devastating loss to lives and property, Governor Newsom's BOF is proposing major revisions that would substantially weaken State minimum fire safe regulations that were enacted in 1991.
Those regulations allowed for concurrent safe ingress of firefighting equipment and personnel, while also providing for safe civilian evacuations. As wildfires have become more prevalent, it is even more important to provide firefighters and civilians with minimum safety standards for evacuation routes. The Board of Forestry's updated regulations do the exact opposite.
"I find it absurd that we are throwing tens of millions of dollars at our fire suppression capabilities but removing some of the safety and fire protection regulations that were developed in response to previous catastrophic and tragic events. The Board of Forestry's updated regulations remove long-standing safety standards in high fire danger areas, which will likely risk fire fighter and civilian lives," said David Hillman, retired Deputy Director of Cal Fire who participated in the drafting and implementation of the 1991 state minimum fire safe regulations.
The Fire Chief's Working Group is a team of fire captains and marshals from across the state who were brought in to consult the BOF on safe fire management policies in 2020. They recommended maintaining a minimum 20' roadway and reducing dead end roads from 1 mile to ½ mile in response to increasingly dangerous wildfires. Unfortunately, the BOF is ignoring the advice of the Fire Chiefs and long-standing regulations by substantially weakening the standards for all existing roads on which most new development occurs. Both existing communities and new developments evacuate via existing roads, where evacuations are already dangerous, further increasing wildfire risk to lives and property, straining firefighting budgets, and jeopardizing property insurance. Yet the BOF has offered no analysis to assess these serious risks.
In a January 19, 2022 letter to the BOF, California Insurance Commissioner Ricardo Lara warned that exempting existing roads and enabling local government authority to water down fire safe standards will, "…put people, including those in existing developments, in greater danger while simultaneously increasing their costs of home and business ownership by exacerbating insurance availability, especially in the WUI [Wildland Urban Interface]."
"Many of the existing communities in the highest fire severity zones were never designed to safely support their current housing, commercial, and industrial density, let alone additional development. Communities across the state need stronger regulations, not loopholes that would allow new development to be built on substandard unsafe roads," said Doug Leisz, former Associate Chief of the U.S. Forest Service.
Recent court decisions have sided with challengers of project approvals because they failed to provide for adequate wildfire and evacuation analysis. The Attorney General joined a recent Lake County lawsuit, which argued that many mitigations offered by the developer didn't ensure safe evacuation on existing road infrastructure.
Local jurisdictions emboldened by the Governor's pro-housing message have been lobbying to overturn the regulations, but fire experts warn, these regulations if weakened will cost lives. In a January 3, 2022 letter, 21 wildfire professionals claim, "The lack of adequate ingress and egress for residents and first responders significantly contributed to the recent losses of lives and properties in California's wildfires."

According to State Alliance for Firesafe Road Regulations member Steve Drimmer, "The BOF must conduct data-supported analyses of existing road capacity and impacts to evacuation response times during wildfire emergencies." The BOF's refusal to conduct this type of analysis ignores the science that shows adding new development in wildfire-prone areas increases the risk to both existing and new communities.